Phuket Sandbox opens 1st Of July 2021. Join us for a Scuba diving holiday.
Phuket Airport is set to open on the 1st of July, The Sandbox Holiday Program allows vaccinated foreign tourists to fly directly into Phuket for Holidays. Phuket is currently the only island that offers the sandbox scheme Travelers do not need to do quarantine and are free to explore the island allowing access to scuba diving activities and water sports. However Tourists will need to stay 14 nights on the island before they are allowed to travel to other provinces in the Thailand
Who can use Phuket Sandbox?
✔️ Vaccinated travelers aged 18 and over, traveling from medium/low risk countries of SAR-CoV-2 virus, need to be fully vaccinated for more than 14 days  before departure date and able to provide a vaccination certificate .
✔️ Children aged 12–17 6-18 years old* can travel without quarantine if they arrive in Phuket and get tested for COVID-19 at the airport at their own expense.
✔️ Children under 12 6 years old*, traveling with fully vaccinated parents or guardians.
*The age of children who will need to be tested on arrival might change again
Phuket Sandbox might be limited to international tourists only, meaning that Thai passport holders and diplomats wouldn't be able to use Phuket Sandbox model and will need to use ASQ/ALQ instead.
✔️ The latest reports suggest that Thais and foreigners who reside in Thailand returning from the low or medium risk countries can join Phuket Sandbox
Documents Required for Phuket Sandbox
International travelers need to apply for Certificate of Entry (COE), just like everyone else traveling to Thailand during COVID-19 pandemic. Proper type of Thai visa
For entering Thailand and using Phuket Sandbox model, travelers will need to show COVID-19 vaccine certificate with a vaccine that has been approved by the World Health Organization (WHO) or the Thai Authority. Proof of vaccination must be submitted when applying for a COE.
The requirement to have a health insurance policy with coverage including COVID-19 related treatment in the amount no less than 100,000 USD for the total duration of your planned stay in Thailand should also stay in place as it's currently mandatory for everyone entering the country. You can easily buy the special package of AXA Thailand insurance online to meet all these requirements.
To enter Phuket by using Phuket Sandbox model, tourists will have to present the COVID-19 free certificate issued within 72 hours before departure to Thailand and a vaccination certificate, as well as undergo a COVID-19 test at the airport (if necessary)
Travelers are also required to download the Thailand Plus mobile application.
Flights to Phuket
Many airlines are scheduling direct flights to Phuket including, Thai Airways, Singapore Airlines, Emirates, Qatar Airways, EVA Air, Korean Air, etc. Passengers seeking to travel to Phuket should contact airlines directly for current flights and travel requirements .
We also have a list of Phuket Sandbox Hotels separated by popular tourist areas in Phuket to make finding a suitable hotel easier: The best way to get around is to rent a small car at the airport
Phuket Sandbox allows you to scuba dive in Phuket
Its still possible to scuba dive at Kata beach for a great walk-in shore dives that continues to provide great local diving with early morning late afternoon,  popular at 1000 Thb per dive – Please check conditions with our office 0870225356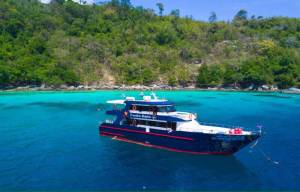 Boat diving 3 dive trips are available, departing from Chalong marina at 8.00 am and returning at 5.30pm, boats now have restrictions on boat capacity due to covid restrictions, larger boats that are now only taking between 30 – 45 divers Prices are 3,300 Thb for 3 dives. Note that the National marine park at Phi Phi is now closed off.
Private Scuba Diving Charters for Families or Groups
Phuket Dive Tours owns and operates a Private catamaran (that's available for small groups for both half-day and full-day trips .. Prices start at 18,000 Thb